One of the most favourite advantages of digital marketing is that we can measure it well in comparsion with offline channels. Although that many of marketers don't use even basic possibilities they have. One of these are UTM parameters.

What is UTM parameter?
UTM is text parameter we add to URL. This parameter carries certain information readable by analytical tools (f.e. Google Analytics). Thanks to UTM parameters we can distinguish different traffic sources (= where the visitors come frome) and analyze its performance.
There are 5 usual dimensions of UTM parameters:
utm_source = name of the source (usually the domain of source website)
utm_medium = name of the medium; type of traffic (f.e. cpc = paid search, organic = organic search; referral = link from another website etc.)
utm_campaign = name of the campaign, f.e. name of the campaign in Google AdWords, date of your e-mail campaign, etc.
utm_content = to distinguish different parts of one campaign; f.e. name of AdGroup in Google AdWords (with auto-tagging you will see the headline of your ads in this dimension)
utm_term = to distinguish different parts of one content; f.e.keyword in Google AdWords
 Where you can use UTM parameters?
You should use it in every link you want to track. Some marketing tools (Google AdWords, MailChimp, AdForm etc) are able to auto tagg your links. In these cases you do not have to care about one single link, just enable and set the auto-tagging feature in your account (here's how to do it in AdWords). Here are some examples where you need to use UTM parmeters:
All PPC systems with no Auto-tagging feature
Facebook Advertising
E-mail campaigns (if your system has no aut-tagging)
Your social-media profiles (like Facebook Page or Twitter Account)
Links / Banners
…any other cases you pay for your link or ad
Why should I use UTM parameters?
Simply said, because you want to track and analyze performance of every single traffic source. Especially if you pay for it. For marketing tools mentioned in the list above you are not able to track number of visits and its perforance without UTMs. You can't see Facebook Ads volume of conversions in Google Analytics if you don't use UTMs. And you can't compare every single ad if you don't track them.
If you do Facebook Advertising without UTMs your badly paid visitors are in "facebook.com / referral" line in Google Analytics acquisitions report. Together with visitors from non-paid Facebook sources like Facebook pages or users profile. You have no change to distinguish paid Facebook traffic from organic without UTMs. You can't track its performance and ROI.
How to use UTM parametrs?
Yout hands are free if it comes to UTMs. What you put into them you're gonna see in Google Analytics. The most important think is still constant and understand to what you have written.
If you, for example, name Facebook advertising source and medium like facebook / ads and next time you'll use facebook / cpc you can't see trends in Analytics and analyze it correctly. This is why I recommend to create a table like this where you can store how to tagg your links with UTM parameters. Share it witho your colleagues and follow it.
With this examples I could create links like this:
http://www.lukaskrejca.com/?utm_source=facebook&utm_medium=ads&utm_campaign=new_customers&utm_term=blue_ad&utm_content=dubai_marketing_likers
http://www.lukaskrejca.com/?utm_source=facebook&utm_medium=social&utm_campaign=30092015&utm_term=lukas&utm_content=link
http://www.lukaskrejca.com/?utm_source=newsletter&utm_medium=email&utm_campaign=30092015&utm_content=1
http://www.lukaskrejca.com/?utm_source=emirates247.com&utm_medium=display&utm_campaign=september15&utm_content=blue_ad
How to create a link with UTM parameters?
In general you can add UTMs to any link wit ? as you can see in my examples above. Single parameters are connected with &. Be carefoul if your link already contains ? (f.e. if you link to search results), you need to add UTMs with &.
You can use several tools for UTM parametres. You just put your destination url, parametres and the tool generates you tagged link.
Google Chrome plugin (remembers your setting)
If you are creating dosen of ads or links you might need a help from Excel (or Google sheets) and its function CONCATENATE. It allows you to connect cells together what in our cas means add UTMs to your links.
It works perfectly for Facebook Ads. You just export your new ads from Power Editor to Excel, copy some columns (Campaign name, Ad set name, Ad name, Link) to a new sheet and use the function.

 Download tis example here.
You just insert the concatenate function to column D and set something like this:
Text1: destination URL (column Link, cell C2)
Text2: source and medium (because it is the same for all ads) and the begining of campaign parameter – here is "?utm_source=facebook&utm_medium=ads&utm_campaign="
Text3: campaign name (cell A2)
Text4: ad name will go to utm_content – here "&utm_content="
Text5: Ad Name (cell B2)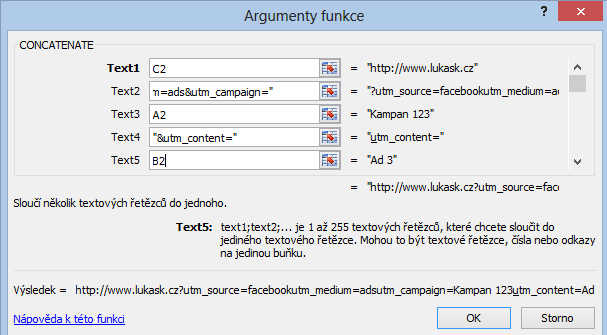 I'm gonna have tagged destination URL in column D. I just need to copy it down to other rows and Excel automatically adds UTMs to all my links. I just take this columns, copy it to  eport from Power Editor and import it back.
I recommend you to always check if your parameters work well in real-time report in Google Analytics. Tag it, measure it, analyze it!
The following two tabs change content below.
Lukas founded Jayid after helping 100s of businesses both in MENA and Europe with digital marketing and building regional offices for international companies. He's passionate about developing others and his vision is to unlock digital for every entrepreneur and business in the world.